Performance Series Quality
In Japanese, the word 'Kuro' (Blak) symbolizes wisdom, experience and nobility. Kawai's GX Blak series is the piano world's embodiment of these traits. Kawai's nine decades of experience are on full display within these beautiful looking and sounding pianos. Innovations like the hard finish music desk which protects the music desk from being marred by scratches, to the 'Soft Fall' fall board and of course, Kawai's legendary Carbon Fiber ABS action helps prove that Kawai instruments are indeed the future of the piano.
The premium components combined with Kawai's innovative and continuing engineering make this series of pianos a dream to play and perform on. This high caliber of quality is backed by Kawai's full warranty to ensure that these instruments continue to serve you for decades to come.
ABS-Carbon Fiber Action Components
Kawai's Millennium III piano action features components constructed of the toughest, high-quality ABS-Carbon. This sturdy and resilient material allows Kawai's engineers to create an action that is stronger yet lighter than normal piano actions. This allows for increased durability and an amazingly responsive touch and feel. These parts are much more resistant to atmospheric changes than normal wooden components. Wooden parts can swell and warp, causing undesirable changes. Kawai's ABS-Carbon actions help to eliminate that problem while offering an uncomprising quality of tone and touch.
NEOTEX Key Tops
GX Blak series pianos utilize exclusive NEOTEX key surfaces. This material constructed out of cellulose fibers offers a smooth and delicate texture which matches natural ivory and wood. NEOTEX is also semi-porous to help absorb the hand's oils and perspiration. Both the naturals and sharps utilize this material, so the entire keyboard is consistent in touch and feel. This tough material resists cracking and is static resistance.
Strength of Design
GX Blak Series Grand Pianos are engineered to last. The Stretcher Over-Lap Integrated Design (SOLID) creates a strong and rigid foundation to withstand and support the tension that the strings place on the piano. The pinblock is carefully fitted to the plate and the pinblock and over-lapping stretcher bar are then integrated into a single structure. This is then solidly anchored to the rim of the piano. This ensures the structural integrity of the overall framework and helps to maintain a stable tuning and the powerful tone that the GX Blak pianos are known for.
The Dual Steel-Reinforced Keybed provides essential strength to the already extremely strong laminated hardwood keybed. This ensures the maximum stability possible, additional strength and peace of mind. The long keyslip that rests in front of the keys, can warp. Kawai has solved this issue by reinforcing the long piece of wood with a steel liner. This ensures that the keyslip remains straight and does not bind with the keys. All of these innovations carry the Kawai piano to another level of heirloom durability.
The Kawai Signature Tone
Kawai pianos utilize hammers pressed out of the highest quality, hard-pressed felt. Mounted on light weight mahogany moldings, these hammers are similar to the hammers we select for our premium restored Steinway & Sons pianos. These hammers respond well to the voicing technician's care, allowing us to create a pure, clear quality of tone that is left unwanting in richness.
CORE is an acronym that stands for "Convergence for Optimum Reflected Energy."
This convergence refers to the way the piano's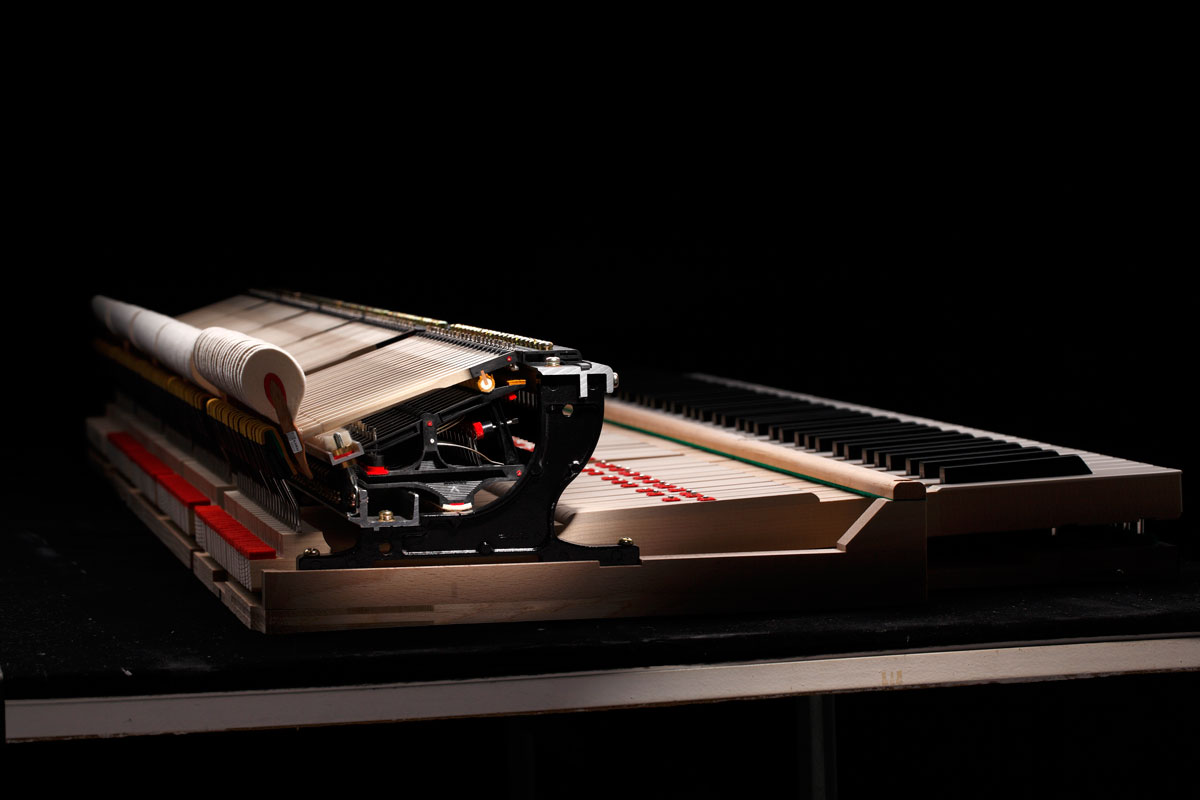 strength centers – the rim, plate and underside beams – all focus on one central point of the instrument. This focus on the core maximizes the reflective capabilities of the inner rim for outstanding tonal power and sustain. The exclusive Konsei Katagi rim uses a blend of quality, distinctive hardwoods to achieve the ideal balance of tone. The inner rim is constructed of small-pored hardwoods to provide brightness and the needed projection. This is interlaminated with dense, large-pored hardwoods offering a beautiful warmth and a broad fullness of tone.
Solid Spruce Soundboards & More
The soundboard is truly the heart of a piano's tone. The soundboard inside of a Kawai GX-Series grand piano is crafted from solid spruce. This ensures the highest quality of tone and lasting stability. Each soundboard is expertly tapered to provide the perfect amount of resonating movement in each region. This, combined with dual duplex scaling, an expert bridge design, and hard brass agraffes ensures an absolutely brilliant tone. Kawai GX Blak series instruments produce a rich, vibrant sound that simply must be experienced.
Your Choices | GX-Series Grand Piano Models
There are seven models of grand pianos within the GX Blak Series from Kawai. These instruments range in size from the 5'5″ Classic GX-1 to the 7'6″ Semi-Concert GX-7. With such a variety of sizes to choose from, you will have no problem selecting the exact piano that is right for your specific situation. Each Kawai GX Blak Grand Piano comes with a Ten Year Fully Transferable Manufacturer's Warranty.