Premium Restored Steinway & Sons Grand Pianos | Concert Level Quality
We proudly specialize in the restoration and retail of vintage Steinway Grand Pianos. Our work is of the finest quality and has become the preferred choice of numerous concert venues, universities and individual pianists across the country and around the world. Purchasing a restored Steinway & Sons piano from us allows you to experience the craftsmanship that has made the golden age of Steinway so respected. We regularly ship our grand pianos across the country to countless satisfied clients. We invite you to browse through our selection of restored pianos and to contact us here at Chupp's Pianos if you have any questions. We look foward to working with you to secure the piano of your dreams.
Showing 1–12 of 42 results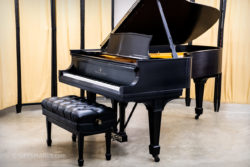 Quick View
Crafted in 1925 at the New York Steinway factory, Steinway & Sons Model B #237578 measures 6'11" in length. This 'music room grand' piano features a Steinway & Sons Factory soundboard and hard maple pinblock in phenomenal condition. This piano underwent a full restoration which included a fully rebuilt action, a refinished cabinet and so much more. Pictured with an optional Jansen Artist Duet Bench. Available for you to play and purchase today from Chupp's Piano Service.
Showing 1–12 of 42 results