---
Restoring a Vintage Steinway Piano – Premium Piano Rebuilding 
---
There are many times that selecting a premium rebuilt piano is a significantly better deal than buying a new piano. A better value in terms of both quality of sound and in price. It is possible to purchase a fine, fully restored and regulated Steinway & Sons instrument for much less than the factory new price. Restoring a Steinway piano is a sound investment financially and as a gorgeous musical instrument. Rebuilt and restored Steinway & Sons pianos are typically up to 40 percent more affordable than new ones.
Restoring & Servicing – More Than Just Steinways!
Many professionals understand that pianos built before World War II are of better quality than the pianos rolled out of factories today. This era is considered by many to be the 'golden age' of the Steinway & Sons company. These pre-WWII models are referred to as "vintage" pianos. Vintage Mason & Hamlin instruments are another brand that is held in high regard along with restored Baldwins and other similar makers. The 'golden age' of piano building produced some of the finest instruments in music history.
Full Rebuilding – The Finest In Quality
The definition of rebuilt (amount of work actually done on the piano and the associated quality) varies a lot in the industry. Also, some pianos that had poor tone and touch when built new are not improved by the rebuilding process. Some piano "rebuilders" simply clean the piano up or change parts and don't do the extensive work actually needed to be of full rebuild quality. Here at Chupp's Piano Service we are experts in TRUE piano restoration and rebuilding and have specialized in premium Steinway piano restoration for over forty years. We go over every component of your prized instrument and have the skills needed to complete the extensive work your instrument may require. While others simply change parts, we do more than that. Our expert piano technicians are capable of truly crafting an instrument that fits your specific playing preferences. With work that is of the highest quality, we are proud to provide pianos to professional pianists, universities and concert venues around the world. Continue reading below to learn more about the extensive work and expertise that goes into each one of our concert-level piano rebuilding projects.
The Instrument of the Immortals – Past Steinway Slogan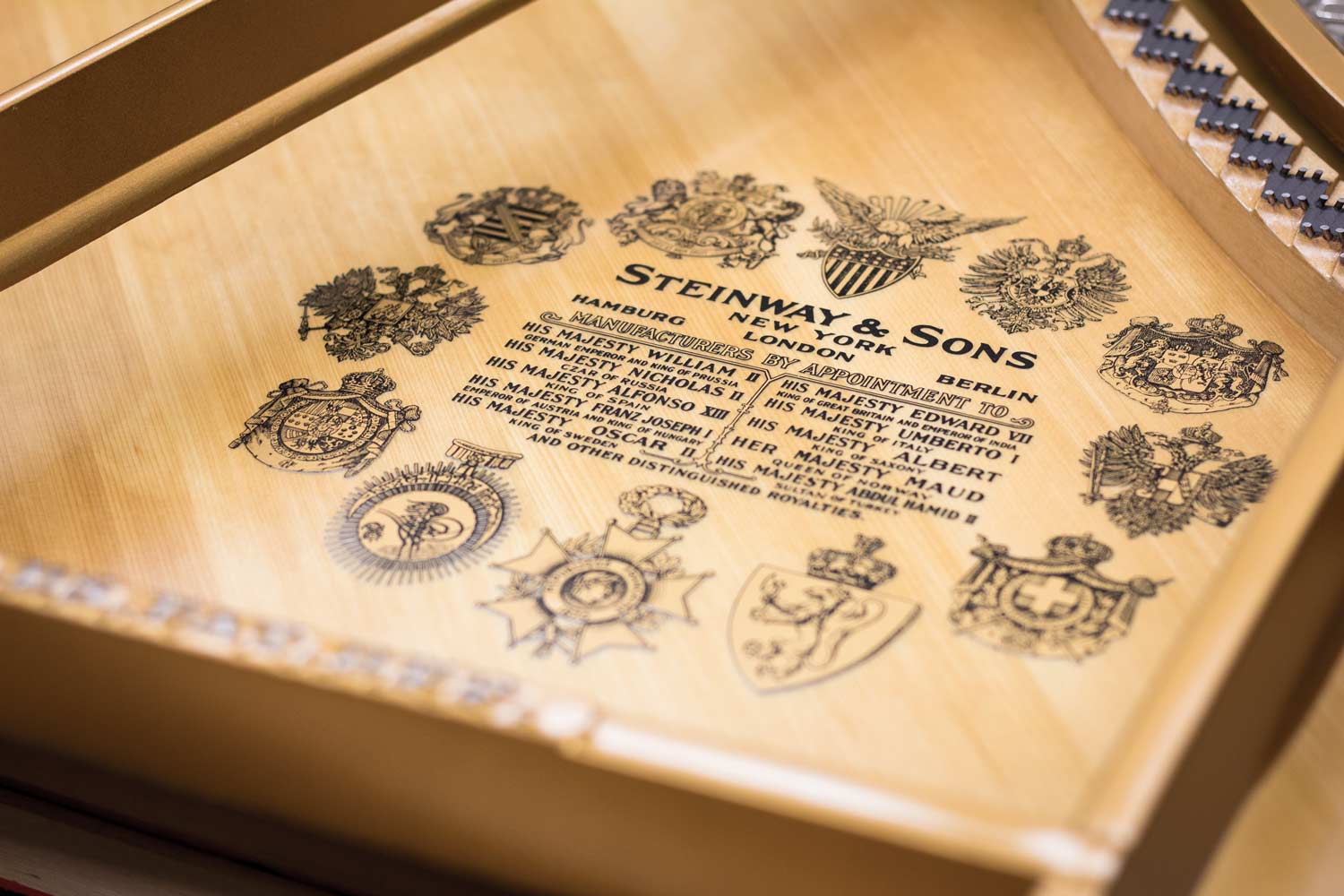 Restoring the Soundboard
When restoring a piano, we can try to retain the original soundboard if at all possible. Many clients we work with prefer the use of the original soundboard. Utilizing our advanced repair techniques, this option is often a viable one. Unlike many other piano rebuilders, we do not use shims in our repairs. Our soundboard repair methods utilize an advanced synthetic wood that bonds with the current wood. Unlike the shim method which forces two ages and types of wood together, this repair is much more stable, prevents future defects and is cosmetically cleaner. When conducting repairs we also seal the soundboard to the ribs and rim.
When the soundboard needs to be replaced, we utilize the finest solid spruce soundboards available today. Utilizing time-honored techniques, these soundboards are expertly dried and cured for optimum stability. These custom manufactured and fitted soundboards are crafted with the same care as in the golden age of Steinway and are installed with a fine attention to detail.
Premium Piano Refinishing Process
Over time a piano's cabinet can fall into disrepair. After decades of use, the finish can become marred and the cabinet damaged. Many times the figured wood grain will become completely obscured by a rough and worn finish. Refinishing the piano refreshes the look and returns a 'like new' feel to the instrument. Here at Chupp's Pianos, we utilize the finest processes and materials to complete world-class visual restorations. Our premium closed pore lacquer finishes are hand rubbed to the desired sheen. This creates a completely smooth and transparent finish for optimum clarity. We choose to use the time-tested hand rubbed method over the faster spray only finishes. This results in a fully repairable piano finish without any particles that can obscure the gorgeous wood and color below. It takes longer and requires more expertise, but the beautiful result is worth the effort.
Rebuilding the Action
Almost all of the thousands of moving parts inside a piano are located in the piano's action. It is essential that the action is not only rebuilt correctly with the correctly selected parts, but it also must be fully regulated and voiced to ensure the right feel and to bring out the correct tone. An improperly voiced and regulated instrument no matter the brand of parts will result in an unpleasant playing experience. The piano simply will not be near its full potential. The geometry of the action affects the touch and overall responsiveness of the piano. Our technicians make the fine measurements and minute adjustments necessary to meet the expectations of any professional pianist.
We utilize genuine New York Steinway & Sons, German Renner or any other high-quality action parts of your choosing. Custom built and regulated actions are just one of the many options available to you when you choose to have us restore your piano. Each action is properly regulated and expert tone regulation is conducted to ensure the very best playing experience that is custom tailored to your preferences. Our technicians are experts in conducting action analysis in order to select the parts that are perfect for your piano. We are passionate in crafting an instrument that is of true concert-level quality and capable of supporting the repertoire of the finest artists.
Repairing or Replacing the Pinblock
The pinblock, sometimes also called a wrestplank inside of a standard grand piano must withstand approximately 40,000 pounds of tension placed upon it by the strings. As a pinblock ages under this consistent tension, the holes in which the tuning pins are driven become worn and enlarged. This causes the pins to become loose and compromise the tuning stability.
The piano will constantly slip out of tune affecting the quality of the sound and the overall playing experience. Restoring or replacing the piano's pinblock becomes necessary and our piano technicians are very skilled in both processes. Many times we can restore and continue to utilize the original pinblock or we can replace it with a premium custom manufactured block. These multi-layered pinblocks are made of the finest hard maple. When installing a new pinblock, each one is carefully drilled and fitted to the piano. This ensures optimum tuning and structural stability.
The Piano Strings
Piano strings are one of the most important sound producing parts of a piano. High-quality music wire is essential for producing full, quality tone. Piano wire is made of tempered high carbon steel. Steel utilized in piano strings must withstand incredibly high tension, repeated stretching and relentless blows from the piano's hammers. Precise manufacturing is required for a consistent and clean tonal quality.
Our premium rebuilt pianos utilize the finest strings available. World-class music wire and the finest custom copper wound bass strings are standard in all of our restorations. Each hammer is carefully fitted to the string to ensure that it is struck at the proper location. Restringing correctly is not a quick and easy process. There are over 200 strings in a grand piano and each string must be properly fit, cut, coiled and tuned to create the very best possible tone.
"Your expert skills as a technician and artist combined with the beauty of this instrument has a created an piano which is truly magical. I fully appreciated your desire to customize this instrument for my specific tastes and desires as an artist…..and that you did!  I am having difficulty walking past this piano without stopping to play it."

– Catherine A. Walker, Assistant Professor of Musical Theatre | University of Michigan Ann Arbor, MI
The Piano Keys & Keytops
A standard grand piano today features 88 keys. These keys are divided between the 'ivories' and the sharps. Each press of a key sends numerous individual moving parts into motion to move the hammer and hit the string at the precise speed and location needed to produce an optimum tone. We inspect and weigh every key stick to craft the correct weight and perfect touch. When required, we replace the entire keyset with brand new, custom crafted keys.
Many of our vintage Steinway & Sons and other brands of pianos feature the factory original ivory keytops. We are experts in original ivory key restoration and our work ensures a smooth, like new feel to these vintage pieces. Our technicians can also replace extremely damaged or unwanted ivory with a premium synthetic keytop material. Our premium restored Steinway pianos utilize either the original ivory or select German Kluge style keytops.
Re-bronzing the Plate & Hardware
The large gold colored cast iron plate (sometimes called a harp) inside of a grand piano is always one of the most visually striking components of the instrument. This beautiful piece of carefully cast metal is not simply cosmetic, it acts as the structural backbone of the piano, constantly supporting tens of thousands of pounds of string tension.
When restoring a piano we expertly refinish and re-bronze the plate to restore the factory original, beautiful golden sheen. This process requires careful cleaning, prep work and many coats of spraying that results in a smooth, brilliant finish. We take extra care in our process to ensure the quality end result desired. The dozens of pieces of cabinet and plate hardware, as well as the duplexes, are cleaned, re-plated and restored. (Either in a brass or nickel finish.)
The Finishing Touches
During the final stages of our rebuilding process, the finishing touches are applied to each restored and rebuilt piano. The soundboard decal is applied, the logo on the piano's fallboard receives a final touch and the raised lettering and logos on the plate is carefully hand-lettered. Cosmetic details are not the only things addressed.
The piano action is gone through and checked again, and the piano receives multiple tunings and tone regulation. The final tone regulation is truly where the piano is elevated from merely a mechanical marvel to a true, musical instrument. The piano then undergoes a detailed final inspection by Master Technician Dennis Chupp and the rest of the team. The final inspection includes any last action and tone regulating required to meet the specific tastes of the pianist the piano has been crafted for. The art of the piano rebuild is one that blends quality parts, dedicated craftsmanship and the education and experience needed to complete the monumental task. This time-honed process is our passion. We stand behind our work and you can rest assured that our premium restored Steinway & Sons instruments are of top concert quality.
Chupp's Piano Service | Specializing in the Art of Piano Rebuilding | Restoring Vintage Steinways since 1975