Showing 13–24 of 74 results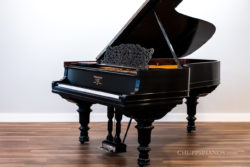 Quick View
Measuring 7'5"  in length, the Steinway & Sons Model C Semi-Concert Grand is a piano of legend. The 7'5" Model C is among the rarest and most coveted of all Steinway concert grand designs. Steinway Model C #77931 was built when quality and attention to detail was second to none. This golden era Steinway Grand was manufactured in the New York Steinway Factory in 1893. It has been fully rebuilt to the highest concert standards and is available today from Chupp's Piano Service, Inc. Have questions?
Get in contact with us today to set up a private selection appointment in our new showroom.
This piano has been sold to a client in Oregon.
Showing 13–24 of 74 results