Golden Age Restored Mason & Hamlin Grand Pianos | Fine American Quality
Founded in 1854, Mason & Hamlin represents the finest in American made pianos. Known for their rich quality of tone and powerful bass sections, Mason & Hamlin Grand Pianos continue to be preferred by numerous professional artists. The company is still in business and their Haverhill, MA factory continues to produce fine, concert level instruments.  We are proud to feature a selection of Mason & Hamlin pianos alongside our vintage Steinways. We invite you to browse through our selection of restored pianos.
Quick View
Undergoing Restoration
Mason & Hamlin Model BB Grand Piano #36328 was built in 1927. Measuring just under seven feet in length this semi-concert grand piano is in very good original condition. Larger than the comparable Steinway Model B, this grand piano is a lasting example of American piano quality. Pictured with an optional Jansen Artist Bench. After evaluating this instrument, we have selected this piano for a full restoration. Post-restoration price is pending. Contact us today for more about this instrument.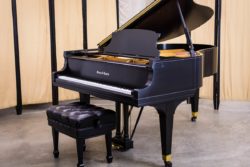 Quick View
Mason & Hamlin Model AA #41019 was built in 1931 at the company's factory in Boston. Measuring 6'2″ in length, this instrument is a living example of 'golden age' piano craftsmanship. Featuring an expertly refinished ebony cabinet, a fully rebuilt action, and the original factory soundboard, this instrument features a full, powerful tone and a responsive touch. This piano is one of several concert level Mason & Hamlin Grands we have available today and has been fully restored. Pictured with an optional Jansen Leather Artist Bench. Give us a call at 888-831-5820 for additional information. This piano has been sold to a client in Michigan.
Quick View
Mason & Hamlin Model AA #34630 was built in 1926 at the company's factory in Boston. Measuring 6'2" in length, this instrument is a living example of 'golden age' piano craftsmanship. Featuring an expertly refinished satin ebony cabinet, a fully rebuilt action, and a new solid spruce soundboard, this instrument features a full, powerful tone and a responsive touch. This piano is one of several concert level Mason & Hamlin Grands we have available today. Pictured with an optional Jansen Artist Bench. This piano has been sold to a client in Indianapolis, Indiana. [Interested in a restored Mason & Hamlin Model AA? View #41019 here. ]