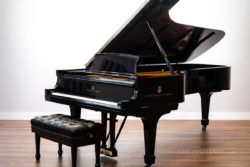 Quick View
The pinnacle of Steinway piano design, the Steinway Model D measure just under nine feet in length. Often featured on the stages of the most premier concert venues in the world, they are just at home in the residences of many Steinway aficionados and advanced pianists. Crafted in 1931, Steinway & Sons Model D Concert Grand Piano #272743 served as CD-180, a piano assigned to the famed Steinway & Sons Concert & Artist Piano Bank! This exquisite concert-level instrument has undergone an exacting rebuilding process by Chupp's Piano Service, Inc. Experience this gem of golden-era Steinway quality by visiting our facilities to play this piano for yourself. Pictured with an optional Jansen Artist Duet Bench. 
[Contact us today to set up a private selection appointment.]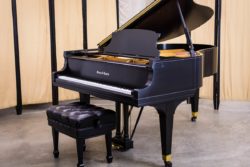 Quick View
Mason & Hamlin Model AA #41019 was built in 1931 at the company's factory in Boston. Measuring 6'2″ in length, this instrument is a living example of 'golden age' piano craftsmanship. Featuring an expertly refinished ebony cabinet, a fully rebuilt action, and the original factory soundboard, this instrument features a full, powerful tone and a responsive touch. This piano is one of several concert level Mason & Hamlin Grands we have available today and has been fully restored. Pictured with an optional Jansen Leather Artist Bench. Give us a call at 888-831-5820 for additional information. This piano has been sold to a client in Michigan.