"THE PERFECT PIANO"
Balanced. Versatile. The perfect combination of size and performance.
The Steinway & Sons Model B Grand Piano, currently dubbed a 'music room grand' by Steinway & Sons, measures 6'11" in length. The Steinway Model B is often called "the perfect piano" and for good reason. It is considered a near-perfect blend of size, power, and overall versatility making this instrument a solid choice for anywhere from an intimate setting, a teaching studio, or a huge concert venue. Larger than a Model S, M, L, or A, Model B grand pianos command a powerful presence. Introduced in 1878, these pianos have been in constant production at both the New York and Hamburg Steinway Factories. The first Model B Grands were based on its direct ancestor the Monitor Grand [AKA the Style 1.]
William Steinway in a letter to dealers noted the new Model B's 'improved interior construction." Time has proven him correct. Featuring a deep, robust bass section and a clear, bell-like overall tone, these pianos are sure to be the musical centerpiece of any room it is placed within.
A consistent favorite of professional pianists, Steinway Model B Grand Pianos are commonly chosen as their preferred home practice pianos due to their clear and beautiful tone and responsive touch. Weighing an impressive 760 pounds these pianos boast a large soundboard area for a full, powerful sound – yet they do not take up as much room as a larger Semi-Concert C or Concert Model D. This accommodates your space, yet refuses to compromise on the advantages of playing a larger piano. For those looking for a truly grand piano for home, recording studio, serious practice, or your professional venue, the Model B may just be 'the perfect piano.'
---
"Steinway Model B Grand Pianos combine Steinway's legendary quality into a truly amazing and versatile instrument.
These respected 'music room grand' pianos are a wonderful mix of visual beauty and true musicality that is extremely difficult to beat."
---
"The model B is my favorite of the New York-made Steinways, and the best choice for the serious pianist, recording or teaching studio, or small recital hall." – Larry Fine, Author of The Piano Book
A Continued Favorite – Legendary Performance
In our four decades in the piano rebuilding industry, we have rebuilt and restored a countless number of Steinway Model B Grand Pianos for concert artists, venues, and pianists around the country. The Model B has endured as one of the finest piano scale designs ever put into production by a piano maker. The performance achievable out of these instruments makes them well worth the price and an extraordinary musical value. Once you experience the touch and tone of a concert-level Steinway & Sons Model B, you will quickly realize why this particular seven-foot piano has become beloved by so many around the world.
We understand the nuances and exacting precision needed to ensure a piano that is truly tailor-made for your tastes and playing preferences. Our fully restored, historic Steinway grand pianos speak for themselves. Each of our vintage pianos is fully prepped, regulated, voiced, and tuned to ensure the highest level of performance possible. We invite you to get in touch with us and visit our facilities to experience our pianos in person. We continue to assist collectors, pianists, and institutions in the discovery of their dream pianos. If you desire the best in the quality of craftsmanship and tone, look no further than Chupp's Piano Service, Inc. Our Rebuilding Facility and Piano Showroom are open for you to fully experience the historic art of piano restoration and concert artistry.
---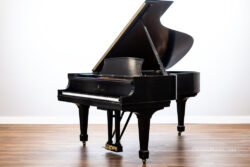 Quick View
Steinway & Sons Model B #487762- was built at the New York Steinway Factory in 1984. Measuring 6'11" in length the Model B is legendary as a piano well suited for both practice and performance. This piano is in excellent, original condition and sits ready for your home or institutional setting. Interested in this fine Model B? Get in touch with our team today! Our piano rebuilding facility features a wide selection of used, new, and fully rebuilt grand pianos for sale today. [Contact us today for more about this instrument or to set up a private appointment in our Piano Selection Showroom.]
"There was a tremendous amount of research and development activity in the piano business in the nineteenth century. The result of this was that all fine piano manufacturers wound up with the same set of basic acoustic engineering principles which seemed to produce the best results. These same manufacturers, in applying these basic principles, also wound up with the same 'ideal' size for a piano – a Grand within an inch or two of seven feet long." – Henry Z. Steinway