Description
Description
1915 Steinway Model A-III Louis XV Grand Piano | #172105 – Ready to Restore
The Steinway Model A was first introduced in 1878 and this Model A-3 is considered to the pinnacle of this model's design. These parlor grand pianos measure 6′ 4 1/2″ in length, larger than the Model A Grands built today. The large 'Stretch A' Model A-III grand is no longer in production by Steinway. [Reliable rumors indicate that it was discontinued due to it competing with the more expensive Model B.]
Crafted in 1915 at the New York Steinway Factory, Steinway Model A-III #172105 features a Rococo, Louis XV Style Art Case cabinet. The case features delicate scrollwork and hand-carved details on every part of the piano. Covered in a rich cut of mahogany, this grand piano is a stunning piece of golden era piano manufacturing and stands ready for your consideration at our Rebuilding Facility. The piano, as it sits, was partially restored some years ago. The price listed is a pre-restoration price. In order to offer our customers as many options as possible, we are currently offering the chance to choose the extensiveness of the restoration. With the finish currently in good condition, do you wish to retain it? What action parts do you prefer? The choice is yours!
A full restoration will include a fully rebuilt belly, a new customized action, and the art case cabinet can be refinished in a closed pore lacquer. The piano is in overall very good structural condition and is an excellent candidate to undergo a full rebuilding process. It is sure to be the musical centerpiece of any room it is placed in. Contact us today to learn more about what the premium rebuilding process would entail and to receive a custom price quote. Here is a list of work we recommend having done to this Steinway Model A-III;
---
Belly Work | Plate, Soundboard, Pinblock & Strings
New solid spruce soundboard & bridges
Install new custom fitted pinblock
New high-quality music wire & tuning pins
Premium quality custom manufactured bass strings
Install new damper felts
Refinish original damper heads
Restore and regulate damper back action
Restore & polish original ivory keytops
Re-bronze and hand letter cast iron plate
Tune multiple times for optimum stability
Action Rebuilding & Concert Regulation
Rebuild & restore action with highest quality select parts
Complete extensive action regulation
Execute concert level tone regulation/voicing
Weigh-off action to Steinway specifications
Premium Lacquer Refinishing – OPTIONAL
Refinish art case cabinet in a closed pore, hand-rubbed finish
Restore any missing or damaged veneer
Affix fallboard logo decal
Restore original brass hardware
---
The True Golden Era of Piano Building – Restored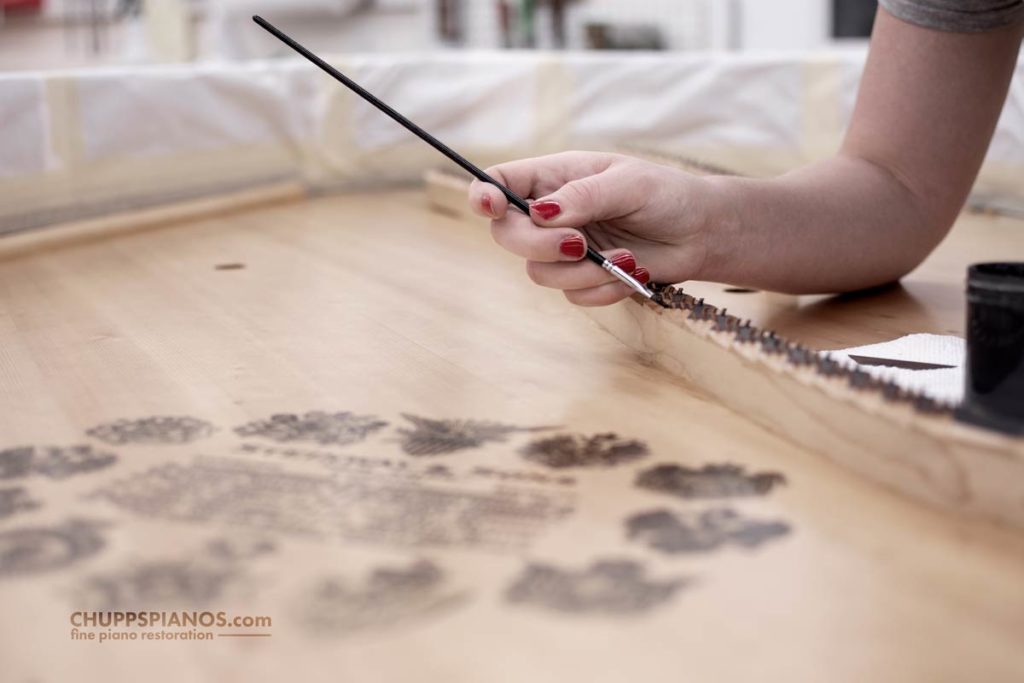 Turn of the century Steinway & Sons grand pianos are a testament to the high quality that was standard at the New York and Hamburg factories during the era. This dedication to innovation and high standards is what has made the Steinway name legendary. An incredibly high level of woodworking skill and overall craftsmanship is evident in every vintage Steinway. Luxurious woods and detailed hand carvings speak of elegance and an uncommonly superior standard of work.
Since 1975 Chupp's Piano Service, Inc. has been specializing in the premium restoration of fine grand pianos. With a special focus on vintage Steinway & Sons instruments, we have honed our craft to ensure the very finest in quality. We are confident that any one of our premium restored or ready to restore Steinway & Sons pianos will satisfy even the most discriminating of artists. Vintage Steinways are highly prized by many – for good reason. We are ready to assist you in locating the piano that you have been dreaming of! Don't live near us? We regularly work with clients from across the continent, ensuring their instrument is tailored just for them. Contact us if you have any questions or would like to set up an appointment to see our facilities and the world-class pianos we have in stock.
Chupp's Piano Service & Restoration | Vintage Steinway | Vintage Mason & Hamlin | New Kawai Pianos
More Info
Additional information
| | |
| --- | --- |
| Color | |
| Finish | |
| Manufacturer | |
| Model | |
| Piano Type | |
| Year Manufactured | |
Get In Contact About This Piano
Get in contact with us about this Steinway Model A-III by utilizing for form below or calling 574.831.5820. [Toll-Free: 888-831-5820]
Product Inquiry
"*" indicates required fields
Our History
Over Four Decades of Expert Piano Service
Founded in 1975 by Master Piano Technician Dennis Chupp, Chupp's Piano Service, Inc. has been serving the piano needs of the music community around the world for over forty years. Specializing in premium restored Steinway & Sons, new Kawai, vintage Mason & Hamlin and pre-owned Yamaha pianos, Chupp's Piano Service is a full-service piano business.
Over 2,000 Vintage Steinway pianos sold.
Multiple pianos provided to concert venues and universities.
A wide selection of premium restored Steinway grand pianos for sale.
Full piano restoration services
Piano moving, concert-level regulation, piano tuning, and more.
The Chupp's Pianos Difference
A family-owned and operated business, Chupp's Piano Service, Inc. has the experience and dedication needed to ensure the highest caliber of work. Whether you need your piano tuned, fully rebuilt, or are in the market to purchase your dream instrument, look no further than Chupp's Pianos. Our premium Steinway Piano Restorations show our commitment to craftsmanship and utilize the best techniques. We are ready to serve your piano needs! For more information contact us today. We are happy to assist!
---
Contact Us