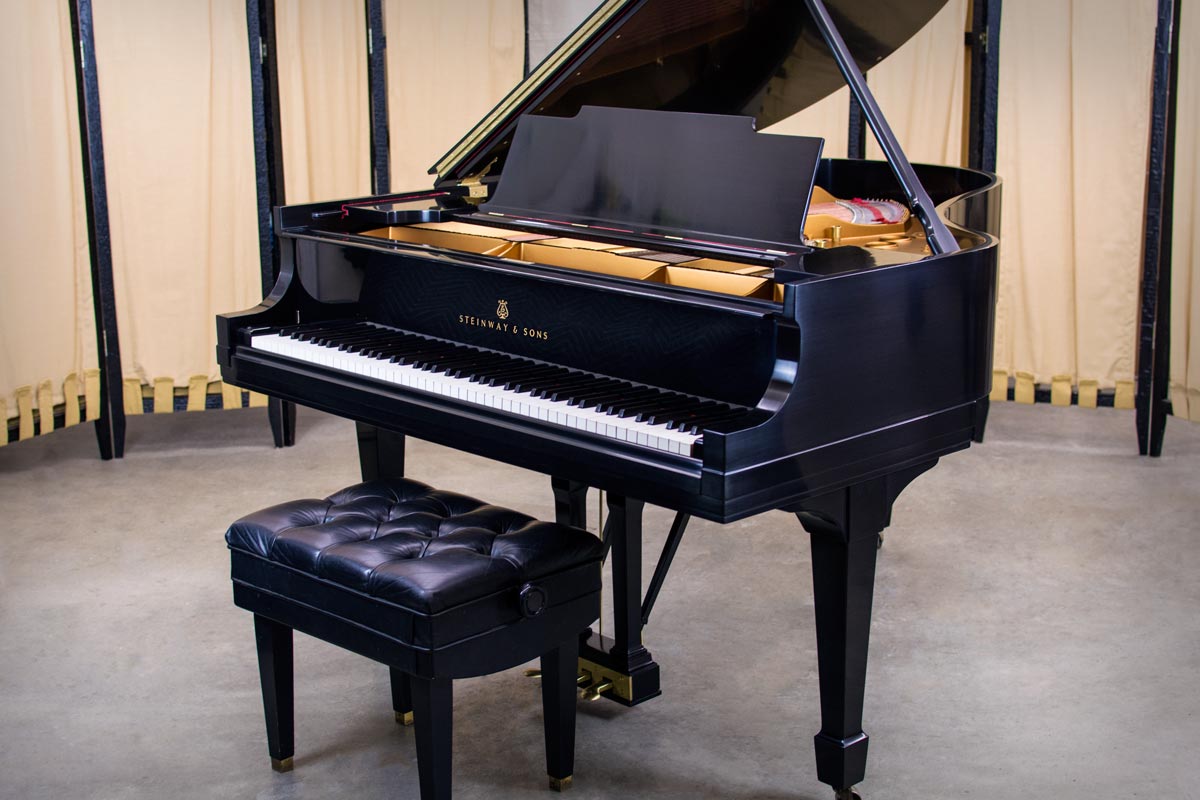 Fully Rebuilt Steinway Model M | Fine Restored Pianos for Sale
T
he pre-WWII era of piano manufacturing saw the growing American industry reach its height in both size and quality. This golden age of piano manufacturing saw incredible quality and innovation become the standard as hundreds of makers competed for the hearts (and wallets) of a piano loving public.
Into this era of craftsmanship Steinway Model M #250775 was born. Built in 1927 at the New York Steinway & Sons factory, this 5'7″ instrument features an overstrung scale designed by Henry Ziegler. Scaled down from the larger Model O, this instrument was originally designed to give the public a smaller option in Steinway's lineup of grand pianos. Until the introduction of the 5'1″ Model S, the Model M was the smallest grand piano that Steinway produced.
The first Steinway & Sons Model M Grand Piano #150293 was manufactured at the New York Steinway factory in 1911 and the Model M was introduced in Hamburg in 1926.
"The Instrument of the Immortals" – Past Steinway Slogan
Steinway Model M #250775 has undergone a full rebuilding process and is currently for sale at our New Paris, Indiana rebuilding facility. The cabinet has been fully refinished in a rich satin luster. The piano features a fully rebuilt action with highest quality selected parts and has been fully regulated to ensure an amazing playing experience. The original solid spruce factory soundboard has been expertly repaired and refinished with new bridge pins. A custom fitted pinblock has also been installed. The cast iron plate was re-gilded and hand lettered while the original ivory keytops were fully restored. The Steinway Model M has been restrung with high quality music wire attached to blued tuning pins. Every inch of the instrument has been painstakingly evaluated and rebuilt to ensure the very best playing and performing experience. A piano should inspire the artist and this Steinway Model M does just that!
If you are interested in purchasing this fully restored Steinway & Sons Model M Grand Piano, get in touch with Chupp's Pianos today. Our Northern Indiana facilities feature a large selection of fully restored pianos for sale as well as new grands, uprights and digitals.
We feature fully rebuilt Steinway & Sons, new Kawai and select pre-owned Yamaha at both our New Paris, Indiana Rebuilding Facility and our Goshen, Indiana Piano Selection Showroom. We have over four decades of experience in the piano industry and are ready to help you find the piano that is right for you!
Contact Chupp's Pianos
Chupp's Piano Service | Premium Restored Steinway Grand Pianos
Comments are closed