Description
Description
1946 Steinway Model M Grand Piano #319614 | Circassian Walnut – Art Case 
F
irst introduced in 1911, the Steinway & Sons Model M Grand Piano has become the quintessential 'baby' grand. Measuring approx. 5'7″ in length, these beautiful instruments offer a sought after balance between manageable size and high-level performance. The Model M is still being manufactured today and is a popular staple of both the New York and Hamburg Steinway piano lineups. Steinway Model M Grands are very popular in homes throughout he world and are also commonly found serving in institutional and even performance settings.
Steinway & Sons Model M #319614 was built in 1946 at the New York Steinway Factory. This golden-era instrument was crafted in a 'modern' Sketch 380 Sheraton case design with square cabinet arms and octagonal, spade style legs that terminate on brass casters. What makes this piano especially unique, is the highly figured Circassian Walnut cabinet veneer. Often prized in small quantities for use on items such as gunstocks and pieces of fine furniture, it is quite uncommon to find covering an entire grand piano! It is highly unusual to find an instrument with this level of detail – especially in a modern cabinet design!
---
---
Our team has completed a full restoration of this rare Steinway. The piano's keyboard features new keytops and restored original sharps. The action has been fully rebuilt with all new parts including dimensionally correct Renner wippens, hammers shanks, and flanges. The original damper system has been restored and is as smooth as silk. Our expert piano technicians have fully voiced and regulated this instrument to ensure it produces a clear, powerful, Steinway quality of tone. This instrument is a pleasure to play and features a beautiful dynamic range. The belly of the instrument features the original solid-spruce Steinway Factory soundboard with new bridge pins. A new, custom-fitted hard maple pinblock has been handcrafted and installed. The cast iron plate, the backbone of the instrument, has been expertly rebronzed in a rich polyurethane and the raised detailing has been hand-lettered. New music wire and bass strings of the highest caliber have been coiled to new, blued tuning pins. Our cabinet refinishing process is labor-intensive and completed with the utmost care. Our rebuilt Steinways are finished in a fine quality closed pore, hand-rubbed lacquer. This allows for optimum finish clarity and an eye-popping final result that brings out the true character of the wood beneath. The cut of walnut utilized on this instrument is beautifully figured and absolutely breathtaking. The refinished cabinet is paired with the original, restored brass hardware.
Our piano restoration work is very extensive and we carefully remanufacture each of our vintage pianos to return to them to a like-new quality of tone, touch, and visual appeal. This piano is a true crown jewel! We invite you to visit our newly built showroom and discover this piano for yourself.
RESTORATION INCLUDES:
Original restored Steinway soundboard
New custom fitted hard maple pinblock
New keytops and restored ebony sharps
New blued tuning pins by Julius Klinke
New music wire and highest quality custom made bass strings
Restored original back action underlevers
Refinished damper heads
New damper felts
Re-bronzed cast iron plate
Hand detailed raised plate lettering
Closed pore, hand rubbed satin lacquer finish
New dimensionally correct Renner wippens (repetitions)
New hammers, shanks, and flanges
Plate floated to obtain proper down bearing
Action weighed off to Steinway specifications
Concert action regulation
Concert level tone regulation/voicing
Contact Us
---
The Highest In Quality | Vintage Steinway Restoration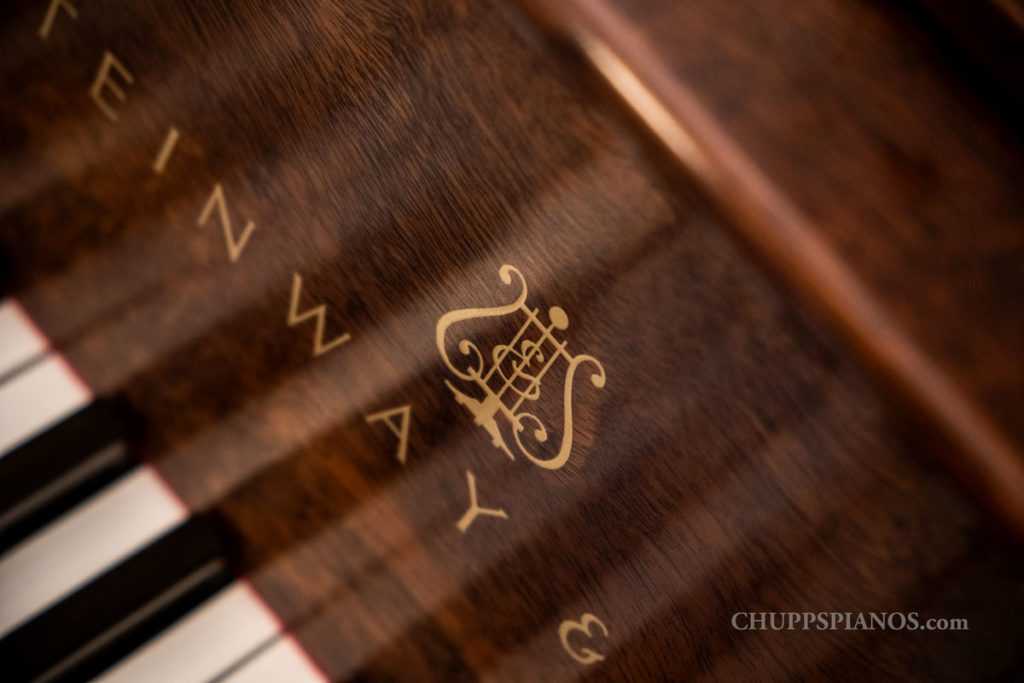 'Golden age' Steinway & Sons Grand Pianos have become the preferred choice of countless concert pianists, recording artists and piano aficionados around the world. WWII era Steinway pianos are the epitome of the craftsmanship that has made the Steinway name so legendary. Craftsmen had access to the very finest materials and intense competition drove them to create the best pianos possible. Here at Chupp's Piano Service, Inc. our restoration work is focused on returning each vintage piano to a concert level of performance. For over forty years we have brought new life to a countless number of historic grand pianos and are dedicated to carrying on the longstanding workmanship of the piano industry.
"A Steinway rebuilt by Chupp's Piano Service is worthy of the world's greatest artists and most prestigious stages. But above all it is worthy of the name Steinway."
Vintage Steinway & Sons Grand Pianos continue to be prized by top artists and piano aficionados for their incredible tone and historic quality. Our rebuilding facility and piano showroom feature an uncommonly large number of original condition and fully restored Steinway, Mason & Hamlin and other pianos from other fine makers. We are also an authorized Kawai piano dealer offering Kawai grand, upright and digital pianos. Located in the heart of Northern Indiana, we are conveniently located between Chicago, Detroit, and Fort Wayne. Our work is of the finest quality and we are confident that our pianos speak for themselves! Contact us today for more information and to set up a private selection appointment. [Toll-free: 1-888-831-5820.]
Chupp's Piano Service | Steinway Piano Rebuilding | Art Case Restoration | Over Forty Years of Family Run Craftsmanship
More Info
Additional information
| | |
| --- | --- |
| Color | |
| Finish | |
| Manufacturer | |
| Model | |
| Piano Type | |
Get In Contact About This Piano
Contact us about this restored Steinway Model M by using the form below or calling 574-831-5820. [Toll-free: 888-831-5820.]
Contact Us
"*" indicates required fields
Our History
Over Four Decades of Expert Piano Service
Founded in 1975 by Master Piano Technician Dennis Chupp, Chupp's Piano Service, Inc. has been serving the piano needs of the music community around the world for over forty years. Specializing in premium restored Steinway & Sons, new Kawai, vintage Mason & Hamlin and pre-owned Yamaha pianos, Chupp's Piano Service is a full-service piano business.
Over 2,000 Vintage Steinway pianos sold.
Multiple pianos provided to concert venues and universities.
A wide selection of premium restored Steinway grand pianos for sale.
Full piano restoration services
Piano moving, concert-level regulation, piano tuning, and more.
The Chupp's Pianos Difference
A family-owned and operated business, Chupp's Piano Service, Inc. has the experience and dedication needed to ensure the highest caliber of work. Whether you need your piano tuned, fully rebuilt, or are in the market to purchase your dream instrument, look no further than Chupp's Pianos. Our premium Steinway Piano Restorations show our commitment to craftsmanship and utilize the best techniques. We are ready to serve your piano needs! For more information contact us today. We are happy to assist!
---
Contact Us