Description
Description
1922 Steinway & Sons Model B Semi-Concert Grand Piano #216066 | Satin Ebony 
Measuring 6'11" in length, the Steinway & Sons Model B Grand Piano is considered by many to be among the world's most 'perfect pianos'. The Steinway Model B is in regular production at both the New York and Hamburg Factories and is a common sight in performance and practice environments around the world. Many professional artists continue to select the Model B as the personal practice piano.
Built in 1922, this vintage Model B Grand Piano was crafted during the height of the Steinway's 'golden era'. This fine concert level instrument was selected by us as a perfect candidate for a full restoration. Steinway Model B #216066 has undergone an extensive rebuilding process to return it to a like new, performance-ready condition. Full of power and breadth of tone, a restored Model B of this historic era is one that is sure to be a treasured and valued instrument. We are pleased to offer this piano along with a wide selection of other fully rebuilt Steinway Model B Grands.
---
The piano's action has been fully rebuilt with new parts. This includes new dimensionally correct Renner wippens and new Renner Premium Blue Point hammers affixed to Renner shanks, and flanges. Renner parts are among the most highly respected in the industry and they construction action parts for Steinway, Fazioli and countless other makers. The action has been fully regulated, voiced and weighed off by our expert piano technicians. Carefully brought up to a stunning concert performance level, the keyboard is incredibly responsive and smooth. From the touch of the key to the lifting of the damper mechanism, 'like silk', is a perfect way to describe this instrument. The tone of this piano is full and rich, with a Hamburgesque clarity that lacks any unwanted harshness. New premium music wire and custom copper wound bass strings are coiled to blued Klinke tuning pins. A new hard rock maple pinblock provides optimum tuning stability and a new solid spruce soundboard has been fitted in order to produce the finest quality of tone. This piano exhibits all of the traits expected of a fine Steinway Model B!
The cast iron plate has been expertly re-bronzed and the raised lettering hand detailed. The cabinet has been refinished in a rich satin ebony with multiple coats of hand-rubbed nitrocellulose lacquer. This full filled, closed pore finish has been rubbed out to a beautiful satin sheen. The original nickel hardware has been re-plated and a new fallboard logo decal affixed to the fallboard. This piano is a stunning instrument both musically and cosmetically!
Contact us for additional information
FULL RESTORATION INCLUDES
New solid spruce soundboard
New custom fitted hard rock maple Durablock pinblock
New premium quality music wire
Premium quality custom made soft copper bass strings
Klinke Diamond blued tuning pins
New Laoureux damper felts & refinished damper heads
Fully restored damper back action
New premium keytops & restored ebony sharps
New Renner wippens (repetitions)
New Renner Blue Point hammers, new Renner shanks & flanges
Premium closed pore, hand rubbed satin ebony finish
Re-plated original nickel hardware
Re-bronzed and hand-lettered original plate
Plate floated to obtain proper down bearing
Full concert action regulation
Concert level tone regulation/voicing
Action weighed off to concert specifications
Fully Rebuilt and Ready in our Facility Now!
---
Video: Steinway Model B #216066 – Shall We Dance?
---
"The model B is my favorite of the New York-made Steinways, and the best choice for the serious pianist, recording or teaching studio, or small recital hall." – Larry Fine, Author of The Piano Book
"A Steinway rebuilt by Chupp's Piano Service is worthy of the world's greatest artists and most prestigious stages. But above all it is worthy of the name Steinway."
– Dr. John Mortensen, Steinway Artist
---
Specializing in Fine Vintage Grand Piano Restoration
Pre-WWII Steinway Grand Pianos were built during what many consider to be the 'golden age' of piano manufacturing. Some of the finest pianos ever crafted were built during this period. Many artists and Steinway aficionados continue to prefer these beautifully restored instruments.
Founded in 1975 by Master Piano Technician Dennis Chupp, Chupp's Piano Service, Inc. proudly specializes in the fine rebuilding of vintage grand pianos. With a focus on the piano as a musical instrument foremost in mind, we spend many extra hours beyond the norm, completing extensive action and tone regulation. These processes ensure that our vintage restored pianos perform at the level expected of even the most discriminating artist. Over our four decades in the piano rebuilding industry, we have rebuilt and restored many Model B Grand Pianos for many concert artists, venues, and pianists around the country. The Model B has endured as one of the finest piano designs ever produced by a piano maker. We understand the nuances and exacting precision needed to ensure a piano that is truly tailor-made for your tastes and playing preferences. [Contact us for additional information or to set a selection appointment.]
Chupp's Piano Service | Concert Level Restored Steinway Grand Pianos | Vintage Mason & Hamlin | New Kawai Pianos
More Info
Additional information
| | |
| --- | --- |
| Manufacturer | |
| Piano Type | |
| Model | |
| Color | |
| Finish | |
| Year Manufactured | |
Get In Contact About This Steinway Model B Grand Piano
Contact us today about this Steinway Model B Grand Piano by using the form below or calling 888.831.5820.
Contact Us
"*" indicates required fields
Our History
Over Four Decades of Expert Piano Service
Founded in 1975 by Master Piano Technician Dennis Chupp, Chupp's Piano Service, Inc. has been serving the piano needs of the music community around the world for over forty years. Specializing in premium restored Steinway & Sons, new Kawai, vintage Mason & Hamlin and pre-owned Yamaha pianos, Chupp's Piano Service is a full-service piano business.
Over 2,000 Vintage Steinway pianos sold.
Multiple pianos provided to concert venues and universities.
A wide selection of premium restored Steinway grand pianos for sale.
Full piano restoration services
Piano moving, concert-level regulation, piano tuning, and more.
The Chupp's Pianos Difference
A family-owned and operated business, Chupp's Piano Service, Inc. has the experience and dedication needed to ensure the highest caliber of work. Whether you need your piano tuned, fully rebuilt, or are in the market to purchase your dream instrument, look no further than Chupp's Pianos. Our premium Steinway Piano Restorations show our commitment to craftsmanship and utilize the best techniques. We are ready to serve your piano needs! For more information contact us today. We are happy to assist!
---
Contact Us
Our offers
Quick View
Fully rebuilt to top concert standards, this Steinway & Sons Model B Grand Piano is a fine example of vintage Steinway Factory quality. Refinished in a rich satin ebony lacquer, Model B #231416 features a new solid spruce soundboard, a new custom fitted hard rock maple pinblock, a fully rebuilt action and much more. This instrument is suitable for any concert pianist, institution or performance venue. Visit us to play this piano and discover why many consider the vintage Model B to be the 'perfect piano.' Get in contact with us today for additional information about this or any other piano we have in our showroom. Pictured with an optional Jansen Artists Bench in genuine leather. [Get in contact with us today to set an appointment to see and play this piano.]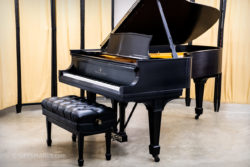 Quick View
Crafted in 1925 at the New York Steinway factory, Steinway & Sons Model B #237578 measures 6'11" in length. This 'music room grand' piano features a Steinway & Sons Factory soundboard and hard maple pinblock in phenomenal condition. This piano underwent a full restoration which included a fully rebuilt action, a refinished cabinet and so much more. Pictured with an optional Jansen Artist Duet Bench. This piano has been sold.