Description
Description
1949 STEINWAY & SONS MODEL D CONCERT GRAND PIANO #329504 | SATIN EBONY – RESTORED
T
he apex of historic piano advancement, the Steinway & Sons Model D is the quintessential grand piano.  true concert grand piano these 9′ instruments are as impressive visually as they are acoustically. The true 'king of instruments' Steinway Model D Concert Grands Pianos are the standard by which other concert pianos are judged and compared. These standard-setting instruments grace the stages of high-level concert venues across the globe. Measuring nine feet in length, the Model D allows for a truly incredible quality of tone that sets expectations. Steinway Model D #329504 was built in 1949 at the New York Steinway & Sons Factory. Originally purchased and utilized by the Cheyenne Civic Center, this instrument is signed by Theodore Steinway. After many decades of faithful service, this concert instrument was selected by us for a full restoration to return it to its performance level status.
The cabinet has been refinished in a closed pore, hand-rubbed satin ebony lacquer. The beautiful finish contrasts wonderfully with the original brass hardware. The action has received a complete and total rebuild including a new, custom-fit keyset, new New York Steinway hammers, and Renner shanks and flanges. Our expert piano technicians have spent an inordinate amount of time adjusting, regulating, and voicing this instrument. The end result is a concert grand that is worthy of the finest performance stages. The original spruce soundboard was found to be in excellent condition and has been retained. A new custom-fit hard-maple pinblock holds the blued pins tightly for a stable tune.
No other model of piano quite represents the artistry, luxury, and craftsmanship like a Steinway Model D. Restored, rebuilt, and returned to its rightful performance-ready status, Steinway D #329504 awaits your selection for your home or professional setting. Our selection of top-quality instruments is unparalleled in the region and we invite you to visit us and see and hear our work for yourself!
---
---
Historic Quality | The Finest Pianos
Pianos built during the 'golden age' of Steinway manufacturing are a testament to the incredibly high level of craftsmanship that was standard during this period in history. Our fully restored and refinished grand pianos are of top concert-ready quality. Decades upon decades of historic craftsmanship and innovation are represented in this gorgeous piano. For over forty years, Chupp's Piano Service, Inc. has specialized in returning these vintage Steinway pianos to life. We are a complete, full-service piano business and we have one of the largest selections of fully restored Steinway & Sons pianos in the country! Restoring pianos is our passion and we believe the quality of our work, sings for itself. We don't just change parts. We have the experience, Steinway training, and dedication required to complete a full, concert-level rebuild of these historic pianos. We have an uncommonly large number of fully rebuilt pianos at our facilities for you to experience today! Contact us today for a private selection appointment and come play our many restored Steinway pianos at our New Paris, IN Rebuilding Facility and Piano Showroom.
The Art of Piano Rebuilding –  Art You Can Feel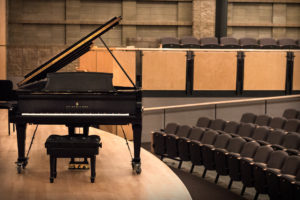 Why choose Chupp's Piano Service? – There are a number of choices available to those who wish to purchase a high caliber instrument like a Steinway & Sons Model D. Companies large and small offer 'piano restoration' or 'piano rebuilding' services throughout the United States. These services are at varying levels of quality and extensiveness. For over four decades we have been exceeding that norm. When we restore and rebuild a Steinway Grand Piano we do not simply swap out parts, refinish the case, restring the piano and call it a finished product. We go through every component of the instrument taking careful measurements and evaluating the condition at every step. Almost every component of the piano is touched in some form or fashion. We can truly say that every one of our concert level instruments that leave our rebuilding facility is of the utmost quality and is a like new instrument that does honor to the historic name of Steinway & Sons. There is no other piano like a Steinway!
---
Chupp's Piano Service, Inc. | Premium Piano Restorations | Specializing in Vintage Steinway & Sons Grand Pianos
More Info
Additional information
| | |
| --- | --- |
| Color | |
| Finish | |
| Manufacturer | |
| Piano Type | |
| Year Manufactured | |
Get In Contact About This Piano
Contact us about this Steinway Model D by using the form below or calling 1-574-831-5820. [Toll-free: 888-831-5820.]
Product Inquiry
"*" indicates required fields
Our History
Over Four Decades of Expert Piano Service
Founded in 1975 by Master Piano Technician Dennis Chupp, Chupp's Piano Service, Inc. has been serving the piano needs of the music community around the world for over forty years. Specializing in premium restored Steinway & Sons, new Kawai, vintage Mason & Hamlin and pre-owned Yamaha pianos, Chupp's Piano Service is a full-service piano business.
Over 2,000 Vintage Steinway pianos sold.
Multiple pianos provided to concert venues and universities.
A wide selection of premium restored Steinway grand pianos for sale.
Full piano restoration services
Piano moving, concert-level regulation, piano tuning, and more.
The Chupp's Pianos Difference
A family-owned and operated business, Chupp's Piano Service, Inc. has the experience and dedication needed to ensure the highest caliber of work. Whether you need your piano tuned, fully rebuilt, or are in the market to purchase your dream instrument, look no further than Chupp's Pianos. Our premium Steinway Piano Restorations show our commitment to craftsmanship and utilize the best techniques. We are ready to serve your piano needs! For more information contact us today. We are happy to assist!
---
Contact Us